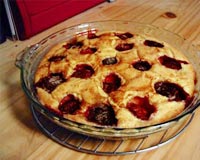 Can a Christmas dinner ever be complete without the traditional plum cake? This year, instead of buying from a bakery, try baking one at home!
Upside-Down Plum Cake
(Serves 6 to 8)
Ingredients:
1/3 cup butter
1/3 cup granulated white sugar
1 large egg
1 teaspoon vanilla
1 cup pastry flour
1/2 cup light cream
2 large egg whites, beaten stiff
1/4 cup brown sugar
2 cups sliced, peeled plums*
extra white sugar
Procedure:
Preheat oven to 350 degrees F or 180 degrees C. Generously butter 9-inch cake pan; set aside
Place butter, granulated sugar, whole egg and vanilla in large bowl. Using electric hand mixer, beat 2 minutes or till thick.
Sift flour and baking powder. Using a spoon, mix half of flour into egg mixture.
Pour in cream and mix well. Add remaining flour and mix again.
Fold in beaten egg whites till no trace remains. Set batter aside.
Sprinkle brown sugar over bottom of prepared, buttered and floured pan. Cover with plums in circle pattern. Sprinkle more sugar over them along with dots of melted butter.
Pour in batter and bake 1 hour in middle of oven, till a knife comes up clean.
When done, remove cake from oven and let cool in pan. Turn out onto an oven proof serving platter and sprinkle with sugar. Place in oven, 6 inches from broiler element and broil for three to four minutes. Slice and serve with vanilla ice cream.
Blanch them a little over a minute in hot water, then let cool and peel off.
1 serving without ice cream has 290 calories and twelve grams of fat. To cut down on fat, use half-apple sauce and half-butter.
To make things simpler, here's how you can see how to do it: