It's here at last: TATA's last dream project before Ratan Tata retires: the Rs. 1 lakh (US$2,500) car! Yes indeed, Rs. 1,00,200 is what it's factory price is. Add some taxes and it'll be yours for less than Rs. 1.5 lakhs: any bank would give you a loan on that!
But as far as the looks go, Tata has worked a miracle. The engine is in the back and baggage space in the front: a concept that has drastically reduced the car's size and helped it gain the excise cut.
Vital stats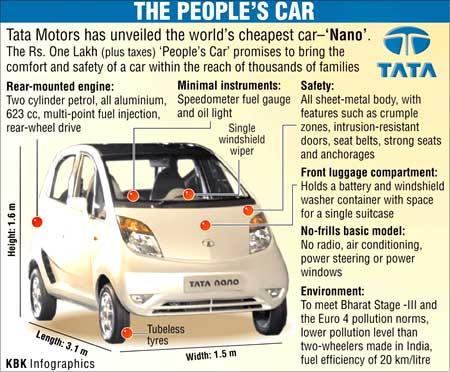 Source: Rediff
Pachauri can sleep
Ratan Tata also said that Rajendra Pachauri, who chaired the 2007 Nobel Peace Prize winning IPCC, could stop having nightmares, as the car conforms to Euro-4 and Bharat-III standards and also offers great mileage. The car is a no-frills but cool-looking model that promises to meet the demands of the common man, Commerce Minister Kamal Nath
said
at the Delhi Auto Expo here on Thursday.
And the competition
While Maruti Suzuki and other major brands lauded Tata for its innovativeness, Bajaj was clearly
out to pick a fight. It launched its first entry into the small car segment with the new Lite. However, the car is for more than Rs. 1 lakh! Made in collaboration with Renault-Nissan, the car will take a long time hit Indian roads.
OTFS
spoke to some car enthusiasts on their take on the Baja Lite and it received a thumbs-down. Described as a box, it was made such that one would have to limbo to drive, making doctors the only people gaining something, apart from Bajaj itself of course.
The verdict is clear: Tata Nano is a hit, Bajaj Lite is a no-show.
Meanwhile, protests were held in Singur in West Bengal, where the Nano would be made. Farmers who have been oppressed and impoverished for decades under communist rule, raised slogans against the factory. However, many people that
OTFS
spoke to said that they were misguided and that the factory would eventually help them clinch better jobs.
The Tata Nano should hit Indian roads in mid-2008 (unless something goes wrong in Singur). Ratan Tata has said that the company might one day consider exporting it, but there was nothing more on that. A representative from the Italian Automobiles Association said that the car had great potential in France and Italy.