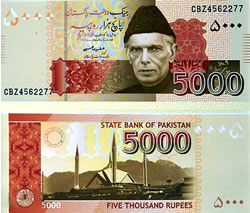 Faced with an unstable economy on the brink of collapse and inflation at above 25%, the Government of Pakistan has approached the International Monetary Fund (IMF) for emergency aid to avoid defaulting on bonds due next year.
Economists say Pakistan needs $5 bn to avoid defaulting on its loans, but the actual price tag may well be $8-10 bn. 
Pakistan also has a severe monetary problem: the Pakistani rupee continues to slide against the dollar, making imports more expensive, while the Central Bank's forex reserves stood at around $8bn, a small amount that will not be able to meet the needs of the country in a few more months.
Turning to the IMF is often seen as a last resort for developing countries, as IMF loans often come with strings attached, such as cutting down on spending on education and poverty-reduction and decreasing the size of government. Nonetheless, Pakistan has had to approach the body several times after Independence from Britain. 
A group of countries called 'Friends of Pakistan' is also debating on how to secure a $10 bn package to help the country. Pakistan's stability is seen as crucial because of its role in the US-led War on Terror.
[With inputs from CNN and the NYT]