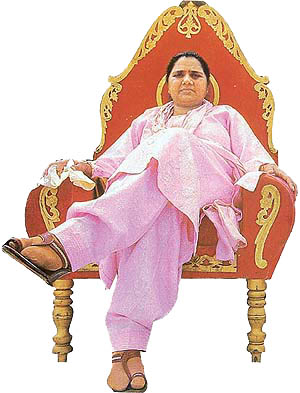 UP Chief Minister Maywati
's latest ad on TV, singing praises of her party's founder Kanshi Ram, is a shameful waste of public money in the name of politics and propaganda.
For ages, Mayawati has been spreading her brand of caste-based politics. She wants reservations for every Tom, Dick and Harry that can and will vote for her. Even the nation's highest civilian award, the Bharat Ratna, was not spared as she kept demanding that her party's founder be given the honour. 
Many people think that she can be the next PM. Indeed, with the kind of politics she plays - dividing the masses on the basis of caste or religion and even terming International treaties as 'against the interest of a particular religion,' by whatever twisted logic - she could become the next PM. Such is the Indian voter: easily swayed by votebank politics and sheer emotional (and monetary) blackmail.
With a kitty of corruption cases against her, she could very well be the most disgraceful PM in history, even more than, say, HD Deve Gowda. If she ascends the political ladder to the highest level, then friends, Indians, countrymen, it is time we looked for another country. Because India, under her, would not be India: it would be Dalit-land, Upper Caste-territory, Special Muslim Zone etc. 
And if I am threatened, attacked, slandered or otherwise for writing this, you can also kiss the free media goodbye.