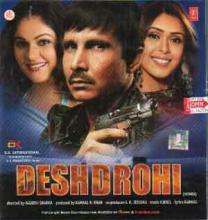 If the Vilasrao Deshmukh-led Congress Coalition Government in Maharashtra thinks that by banning the film  
Deshdrohi
('national traitor'), people will not watch, it has another thing coming. The best way to make sure that everyone does something is banning it.
Deshdrohi
is a small-budget film centred around the Raj Thackeray-led anti-North Indian movement in the state. The movie's dialogues have been making some noise of late, particularly the ones that inspire people not to bow down to politicians.
I do hope the Supreme Court overturns this illegal ban. Banning something will not solve he greater debate, it will only give it time to boil further.