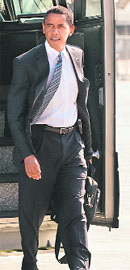 CNN
reports that US President-Elect Barack Obama has pledged to support India in its war on terror and said that his heart reached out to the victims of the 26/11 Mumbai Terror Attack and their families. The attack has killed 173 lives, not including those of nine terrorists.
In an even greater statement, replying to a question on whether the US would let India attack militant camps in Pakistan without Islamabad's permission, the President-elect said that India, like all sovereign nations, had the right to defend its citizens. This reflects changing equations between the US and South Asia, with India emerging as the new American friend and ally.
Obama also said that South Asia would be his administration's top priority, particularly the war in Afghanistan and hunting down Osama bin Laden. Recently, Margret Albright described Pakistan as 'the perfect recipe for an International migraine.'
Obama made the comments during a ceremony in which he introduced his National Security Team, headed by Secretary of State-nominee Hillary Clinton.