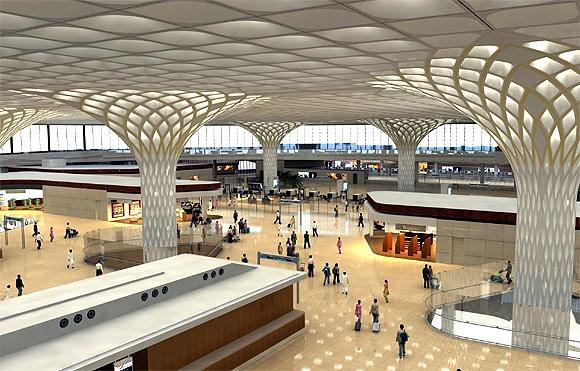 Chhatrapati Shivaji International Airport Mumbai (CSIA) inaugurated its spanking new Terminal 2 (T2) last week, a much-needed improvement to what was increasingly becoming an embarrassment for India's economic capital. Any student of economics or Civil Engineering knows how important airports are to the growth of a city - it is not merely a one-way street. Large cities do need airports, but airports can turn small cities into large cities.
CSIA T2 comes with a unique design concept, that of the vertical terminal. Given the perennial scarcity of land in Mumbai, this was an absolute necessity. The International Terminal and Domestic Terminal are located on different floors rather than different buildings. Obviously, escalators and elevators become crucial in order to process traffic, as opposed to traditional designs that use walkalators (those moving, horizontal strips that everybody walks on but aren't supposed to). If these are designed properly, CSIA could be the best airport in the world for travelers looking to transfer from one Terminal to another. In addition, it also saves on taxiways, because the vertical integration allows multiple gates to use a single taxiway. That would involve some interesting engineering with the aerobridge, but that's not too difficult to do. These give CSIA T2 the persons-to-area ration in India and possibly Asia - that at a minuscule cost of 70% of IGI T3. Now that's some impressive engineering from GVK!
Architecturally, the airport is not really 'green,' although it does make good use of natural lighting. The peacock feather theme is the basis of the entire design, with considerable money having gone in to reinforce that. The nearly 3-km long art walk, depicting various facets of India (including space for each state and UT), is a charm that is sure to be an instant hit with travelers. Managing the HVAC systems for the multi-floor building as well as ensuring connectivity with the 4-storey parking area make up the other architectural challenges that were successfully met. However, as to how the challenge of Mumbai monsoonal deluge will be met so as to avoid a swimming pool forming in the terminal a la IGI T3, remains a test that will be seen come the next monsoon.
Overall, CSIA T2 is a marvel that will be the pride of Mumbai for decades to come - the proud economic center of a proud emerging power,
possibly
Asia's second-largest economy.