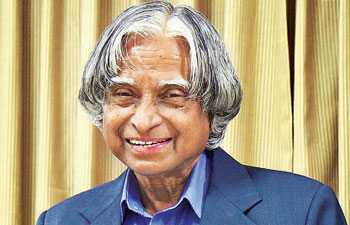 Dr. Avul Pakir Jainulabdeen Adbul Kalam, Bharat Ratna
11th President of the Republic of India (2002-2007)
1931-2015
India mourns the loss of a great scientist, a wonderful President & above all an inspiring individual. RIP Dr. APJ Abdul Kalam.

— Narendra Modi (@narendramodi) July 27, 2015
Born in British India in 1931 in the fishing hamlet of Rameshwaram in the then Madras Presidency (and what eventually became the state of Tamil Nadu of the Indian Union), India's 11th President Dr. APJ Abdul Kalam's life has been the stuff of dreams for the hundreds of millions of young people in India who look for a mentor, an idol to follow. He was called the People's President, one who traveled to schools and universities around the country. He gave the young people the target of 2020 to make India a developed nation. And while that goal seems improbable, the energy from it is what really made a difference.
Dr. Kalam was a scientist, a poet and, much later in his life, a politician. And he was all that simultaneously. For his contribution to India's nuclear deterrent, he was awarded the Bharat Ratna; years later, he played an important part in persuading the Samajwadi Party to support the Indo-US Civil Nuclear Cooperation Agreement, which broke India loose from the shackles of International sanctions and virtually created an exception in the NPT in favor of India. But his love was always for the youth, who he continued to inspire even after he stepped down from the Presidency, to which he was elected during the Vajpayee government in 2002. Few Presidents have been accorded the kind of respect by the general public as him.
It is perhaps fitting that this inspiring academic breathed his last delivering a lecture at IIM Shillong, in front of the academic world that he was always a part of. While death is inevitable, he certainly died the happiest he could have. From life to death, the pursuit of happiness.