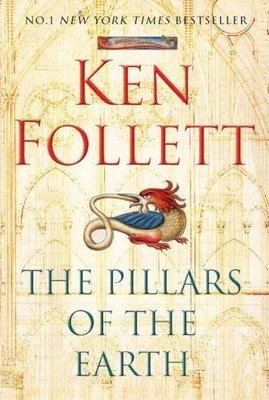 The Pillars of the Earth
By Ken Follett
Fall 2015 undoubtedly counted as the worst semester ever for me, and reading and reviewing books, together with going to the gym and driving lesson,s were the biggest losers in that. However, all that is now past, and come the new semester - before it, in fact - I decided to continue.
The Pillars of the Earth
was a book that I had wanted to read, indeed even started to, last semester itself, but failed to finish. So, once I had more time on my hands, I decided to finish it, and I was glad to continue with Ken Follett, who won my heart with his
Century Trilogy
.
This book is a charm for civil engineers and architects who can imagine a building plan in their heads by simply reading it. With modern knowledge of the moment-resisting frame, it all seems somewhat bizarre, but then, we're talking about a time when such ideas didn't exist. The book is full of conspiracy, heartbreak, and love, but it centers around a burning passion to build something wondrous - a passion that any civil engineer can associate with.
In about 1,000 pages, Follett develops many characters, some plain old black-and-white and some more gray, but all with an important role. In his typical style, it spans generations (and there's a sequel, which I intend to read soon), and has a vast, historic background: the English Civil War. A brilliant piece of work, I'm glad I finally read it!